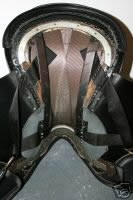 THE SADDLE HOSPITAL, Making ill saddles well!
Testomonial…
Hi Matt
"I'm delighted to report that Matt/Heritage Saddlery has just repaired the twisted tree in my jumping saddle. Others had advised me that a twisted tree was the end of the line for my beloved saddle, but after finding Heritage Saddlery mentioned on web forums, I sent it to him to assess. And hey presto – now all fixed (and for far less than the price of a new saddle)! Much appreciated."
Lise Taylor, UK
The Saddle Hospital….
tree
This is for those of you out there who have saddles that you have been told are no longer usable, repairable or able to be altered to fit
Also for saddles with known faults and for alterations including widening/narrowing to supplied templates
Maybe you have a saddle with a broken or squeaky tree? Or maybe a tree with broken bars? How many of us have spent hundreds, even thousands on saddles (don't ours are much cheaper) only to find out that once purchased they just don't fit?! Then you are told that it can't be altered to fit!
You are then stuck with a saddle that you paid a fortune for but can't sell for a decent price and get your money back!
Perhaps you have a saddle that you love but you wish it had knee or thigh rolls, longer straps. Maybe it needs a new seat or new knee and thigh pads? You may wish it had suede seat and knee rolls? Is it slipping to one side and needs some extra flock to help with this? Well The Saddle Hospital can help!
We can do all of the above and even if the tree is completely broken beyond repair we can track down a suitable replacement tree and put it in for you (This often requires a new seat too).
There's really nothing we cannot do to bring your beloved old saddle back into service. So call Matt for a quote if this service is the right one for you on 07930 840 780 at any time. We offer the following service and repairs to your saddle:
Full MOT's
Trees mended where possible for example new stirrup bars, headplates etc
Restuff's with English Lambs Wool or Synthetic wool
Tree widening/narrowing (please supply a template)
Add/remove knee/thigh rolls
Add larger or smaller, Knee or Thigh rolls
New straps of all lengths, or saddle swithced from long to short straps
New seats, inc' matching leather, suede, Doe, Elk, Nubuck, Schrumpf etc
New trees to replace broken ones or because you want a deeper or shallower feel
We can also fix, refurbish or replace panels in saddles .
Anything you may need doing that is not mentioned? Just call and ask us if we can carry it out for you.
To make and supply us a wither tracing for your saddle alteration please visit…. https://heritagesaddlery.co.uk/content/measuring-your-horse and there are also plenty of videos posted on YouTube on the subject too
Once we have the saddle we will do a full and thorough inspection. Once it has been stripped and inspected, by our team of high class Walsall saddlers, any other faults that are found will be logged and we will call you to discuss the jobs that need to be undertaken, to get your saddle back into service.
At this point we will quote any extra costs of any further work needed to be undertaken. No work will be undertaken before we contact you and discuss the price.
We make saddles so we understand how they work and how to fix all problems. Our prices are very competitive and we will always beat any genuine supplied quotes!